This year's resolution: I vow to quit drinking. I know it sounds crazy, but I figure if I pick one I know I'll break right away, I don't have to deprive myself of something for a month only to end up failing anyway. And whether it's Cava, Prosecco, or Champagne, sparkling wine is the ultimate symbol of celebration. It's the beverage of choice for ringing in the new year, and in my case, for breaking the new year's resolution. Some of you may splurge on a special bottle, others enjoy the excitement of hunting for an inexpensive treasure. These ten are some of my favorites from a variety of price points, styles, and regions.
1. Veuve Clicquot - 'Yellow Label' Brut - Champagne, France NV - $45
Sparkling wine from the Champagne region of France is the quintessential symbol of celebration. The wines of this region show depth, complexity, and more importantly, carry with them a level of prestige. With this bottle you definitely pay for the "Nike Swoosh," but it's still a delightful Champagne for the price. Quick history: The Veuve Clicquot Champagne house was run by the famous Barbe-Nicole Ponsardin-Clicquot, who revolutionized the industry with techniques like riddling (remuage), the process of getting sediment into the neck of the bottle. Her innovative marketing techniques and attention to detail made her wines an international symbol of quality and celebration. Today the Champagne house is owned by the luxury brand company Louis Vuitton Moet Hennessey, whose portfolio consists of big name Champagne brands like Moet & Chandon, Mercier, Ruinart, and Krug.
This wine is a non-vintage, which means it is a blend of several years' grape harvests. Non-vintage is the very essence of Champagne. While vintage Champagnes show us what a producer can do with good quality grapes in ideal conditions, the non-vintage Champagnes showcase the house's style and reputation. It's their calling card if you would. This wine is made from all three of the principal grape varieties of Champagne: Pinot Noir, Pinot Meunier, and Chardonnay. Brut on the label indicates this wine is dry, with 15 grams of sugar per liter or less. The Yellow Label is the most accessible of all of the Clicquot line, available in most retail locations. What I love about the 'Yellow Label' is its finesse. This wine is racy, with bright fruit flavors and a wonderful yeast component.
If you've ever wondered what makes Champagne so much more expensive than, say, Cava or Prosecco, consider these three factors: The labor-intensive traditional method of production in Champagne, branding - the Nike Swoosh, if you will, and the amazing flavors and aromas that, as a result of the traditional method, are unique to Champagne. If you're looking for something special for this year's countdown, try Veuve's luxury brand, the Grande Dame, from a spectacular vintage like 1990 or 1996. But be aware, you will pay upwards of $150.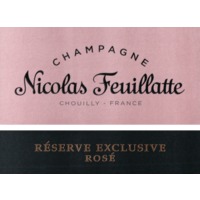 2. Nicolas Feuillatte - Brut Rosé - Champagne, France NV - $48
Nicolas Feuillatte, or Nicky Foo as many call it, is a value-packed Champagne producer. The house started production in 1976, and today they sell more than 9 million bottles annually. Their flashy style and youthful approach to marketing helped them quickly become one of the top five Champagne producers in the region.
Like Veuve Clicquot, this wine is both non-vintage and brut. But what separates this from the widow is its pink color. This particular rosé gets its color from blending white and red wine together. This bad boy is loaded with spicy aromas and berries on the palate. Its silky texture, great flavor, and long finish landed it a spot on this week's top ten list. The same producer also makes a non-rosé non-vintage brut that is definitely worth trying if you get a chance.
3. Domaine des Baumard - 'Carte Turquoise' Brut - Cremant de Loire, France NV - $19
Also French, this next top-tenner is a great bang for the buck. What separates this bubbly from the Nicky Foo or Veuve Clicquot is where it comes from and the grapes that used to make it. Cremant de Loire is a sparkling wine made using the same method used in Champagne, the traditional method. It comes from the Loire region of France located just south and west of Paris, or more importantly, Champagne. The grape used to make this wine is Chenin Blanc, a principal white varietal in the Loire. This value-packed bubbly displays aromas of green apple and nuts, with a creamy texture and bright acidity. A great alternative to Champagne for a fraction of the price.
4. La Marca - Extra Dry - Prosecco DOCG - Veneto, Italy NV - $12
Looking for something a little less traditional that won't break the bank? Then the La Marca is perfect for you. This wine comes from the Prosecco di Conegliano-Valdobbiadene sub-region in the greater Veneto region in northeastern Italy. It has this ridiculously long, and hard to pronounce, name because the grapes are grown near the towns of Conegliano and Valdobbiadene. The grape used to make the wine is Glera, formerly known as Prosecco. Unlike Champagne or Cremant de Loire, this wine is made using the tank method, not the traditional method. This means that the wine is produced in a big tank and then sent under pressure into the bottles rather than being fermented in the bottle itself.

This wine could be one of my favorite summer sparklers. Its light and fresh, showcasing aromas of green apple, lemon, and grapefruit. The palate is refreshing, making it incredibly approachable. The term 'Extra Dry' on the label indicates that this wine has just a touch of sugar, making it more off-dry than dry. One would assume extra dry would have less sugar than say brut, but this isn't the case. This is because the term Brut on a label traditionally indicated that the wine was meant for the Brits, who like it very dry. Extra Dry was the style sent to the Americans, who claimed they liked it dry, but really liked a touch of sweetness in their wines. And now you know the rest of the story.
5. Nivole by Michele Chiarlo - Moscato d' Asti DOCG - Piedmont, Italy 2009 - $15 (375 ml)
Also in Italy is the Asti sub-region of Piedmont, well known for producing delicious bubblies from the Moscato (Muscat) grape. This one is sure to entertain the masses. With its candied nose, filled with citrus and green apple aromas, this wine is perfect for any of your non-wine drinking guests. But the best part is it's delicious, so you'll love it too. What I like about this wine is its sugar content. It's not sickeningly sweet or syrupy like you may have experienced with other Moscato d'Asti's. Instead the flavors are naturally sweet, like fresh strawberries versus concentrated strawberry juice. Like the La Marca, this wine is made using the tank method. If you are entertaining a lot of guests and don't know what to get, pick up the Michele Chiarlo. It's great little bottle that is sure to be a real crowd pleaser.
6. Bellavista - Brut Cuvee - Franciacorta DOCG - Lombardy, Italy NV - $42
This next bubbly is a treat for any wine geek. Franciacorta is a sub-region in the heart of Lombardy known for producing world-class sparkling wines using the traditional method. This wine is made from 90% Chardonnay and 10% Pinot Bianco (Pinot Blanc). The problem with this Franciacorta is production; not how they do it, but how much they make. It's incredibly difficult to find these wines in common retail locations. They must be sought out, and when they are found, they must be purchased. Franciacorta, like Prosecco di Conegliano-Valdobbiadene and Moscato d'Asti, is a DOCG, the highest quality wine tier according to the Italian wine laws. Once you taste this bubbly delight you will see it is NOTHING like Moscato d'Asti or Prosecco. Close your eyes and you could mistake this beauty for a high quality Champagne. It's dry, yeasty, creamy, and delicious. All other Italian DOCG's could learn a lot from Franciacorta.
7. Roederer Estate - Brut - Anderson Valley, California NV - $23
The Roederer Estate is owned by the infamous Louis Roederer of Champagne, the house that produces the ultra-popular luxury cuvee Cristal. They debuted their Roederer Estate Brut from California in 1988. Like Cristal, this wine is made using the traditional method, the same process used in Champagne, France. And sticking with tradition, Louis Roederer uses Pinot Noir and Chardonnay grapes, two of the three principal varieties used in the production of Champagne. All of the fruit used to make this wine comes from the Anderson Valley, which is located in Mendocino County, just north of Napa and Sonoma. This area is cooler, similar to the climate of Champagne. Like the other non-vintage wines on this list, this dry domestic sparkler is made from a blend of several years' grape harvests. If you are looking for a great bubbly for the price, look no further than the Roederer Estate Brut from Anderson Valley in California. They also make an award winning rosé that is outstanding.
8. Argyle - Extended Triage - Willamette Valley, Oregon 2000 - $60
This next bubbly was one of the only domestic sparklers to make it on Wine Spectator's elite top 100 wine list. Anyone who knows me knows that no top ten sparkling wine list is complete without the Extended Triage by Argyle. Like the Roederer Estate, this wine is made using the traditional method and is a blend of Pinot Noir and Chardonnay. It comes from the prestigious Willamette Valley, a region noted for its premier growing conditions for world-class Pinot Noir. This winery was started by Rollin Soles, an American, and Australian native Brian Croser. With a focus on creating high-quality Pinot Noir and sparkling wines, these two took a dream and made it reality. This wine is loaded with ripe fruit aromas of pear and apple complete with a creamy, rich palate. This coupled with the fact that the winery practices eco-friendly winemaking techniques makes this wine a perfect for just about any top ten list!
9. Petaluma by Croser - Piccadilly Valley, Australia 2007 - $30
For our next wine on this week's list we head down under, but a familiar face is there to greet us. Petaluma is an Australian wine project by Brian Croser. That's right, one of the men behind the Argyle wines. This wine, like many of the others on the list, is made using the traditional method. And like the other traditional method wines on the list, this one is made from the Pinot Noir and Chardonnay grapes.
In the Piccadilly Valley sub-region, located just outside of the city of Aidelaide, the vines grow in altitudes of 1300 to 2300 feet. This elevation provides ideal climate conditions for Pinot Noir and Chardonnay. If you are looking for a light, yet aromatic wine full of tropical fruit, like pineapple, and citrus fruit, like lime, then you came to the right place. This wine is dry with a crisp acidity that is sure to please just about any palate. Unlike most of the other wines on this list, the Petaluma by Croser is a vintage wine which means that all of the grapes come from the year stated on the bottle, in this case 2007. An OUTSTANDING sparkling wine from a world-class producer. Truly a must have when the clock strikes midnight!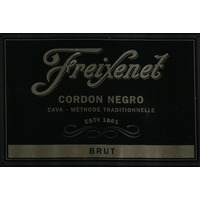 10. Freixenet - 'Cordon Negro' Brut Cava - Spain NV - $12
Last but certainly not least is the Freixenet Cava from Spain. The Cordon Negro, often called the Black Bottle by Freixenet, is the number one imported sparkling wine in the world. Over 350,000 cases of this bubbly are exported to the United States alone each year. Like the Veuve Clicquot, Nicky Foo, Bellavista, Roederer Estate, Argyle, and Petaluma, this wine is made using the traditional method. But unlike the other traditional method production wines on this list, this one is made from the Macabeo, Xarel-lo, and Parellada grapes. These three native Spanish varietals are commonly used in the production of Cava. Much of the Cava produced in Spain comes from the Penedes region located in the northeast. So despite the fact that the label simply states the wine comes from Spain, I would venture a guess that the majority of the fruit is from the northeast. With its lively acidity and pear and apple characteristics, this wine is a value-packed alternative to traditional Champagne this New Year's Eve. Plus, it's really easy to find.

Each one of these sparkling wines will make for a great celebratory bottle on December 31st. I tried to incorporate a variety of regions, price points, and styles to showcase the versatility of sparkling wine. Be advised, many of the wines on this list are dry, so beware criticism from your old-school family members who's quintessential "champagne" is a bottle of Andre Spumante. And don't let them put cola in it. Just buy a backup box of Franzia if that's the case. Whatever you selected and whoever you choose to share it we at Cru hope you enjoy your celebration. From all of us here, have a safe and happy new year.
For more incredible wine picks and delicious pairings, check out
Cru Wine Online
. We pair original recipes with delectable wines, and bring them to you in an entertaining video short, complete with a brief explanation of the wine, the dish, and the pairing.
Sign up today for a 6 Month Membership and receive a
FREE wine glass set
, a $19.95 value. Life's short, so drink it up. At only $7.99/month you can't afford not to! Happy New Year.
Salut,
Nicholas Barth
Certified Sommelier
Wine Director