Ahh...the new year. It signifies rebirth, a clean slate. A chance to get it right and avoid the mistakes you made the year prior. Oh, who are we kidding. We all know history repeats itself. But I will say, the new year is the perfect opportunity to try some amazing new wines. As I think about the year ahead, I begin to envision the "new" wines 2011 will bring with it. So I put together a list of 10 must-try wines for the new year. If you're feeling adventerous, this year's resolution could be to try all 10 before the ball drops in 2012.
1.
Vina Cono Sur - Brut Sparkling - Bio Bio Valley, Chile NV - $20
We start this top ten list with a relatively new wine produced by the young, innovative Cono Sur winery of Chile. Cono Sur is the offspring of Chilean industry giant Concha Y Toro. The winery was founded as recently as 1993, but they have quickly become a staple in the Chilean wine market. They are the second largest exporter of bottled wine in Chile in terms of value, and they are one of the most progressive wineries in the country in terms of eco-friendly winemaking practices. Cono Sur was the first winery in South America to receive a double ISO certification, one for their quality assurance procedures, and one for their environmental policies.
What makes this wine worthy of my "new" top ten list is the fact that Vina Cono Sur is one of the few Chilean wineries to make wines with grapes grown in the Bio-Bio Valley, located in southern Chile. Bio Bio is one of the most southern wine producing regions in the world, boasting a climate that is sunny yet cool. These factors create ideal conditions for growing high acid grapes, which are perfect for producing sparkling wines. In addition this bubbly is a unique blend, consisting of 90% Chadonnay, 6% Pinot Noir, and 4% Riesling. It is dry - as the term 'Brut' on the label signifies - fresh, and clean, and makes for a great pairing for your backyard deck...or seafood.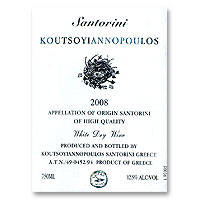 2.
Koutsoyiannopoulos - Assyrtiko - Santorini, Greece 2009 - $19
This next one comes from a region that has been making wine for over 6500 years. But only recently have we started to see a surge of good quality wines. The country is focusing on native varietals and modern production methods. The result is a boom in Greece's wine quality and quantity. This particular refreshing white by Koutsoyiannopoulos is made from the Assyrtiko (aka Asyrtiko) grape, a varietal indigenous to the island of Santorini. Santorini is regarded as one of the most beautiful vacation destinations in the world. I myself would enjoy basking in the sun and enjoying this beauty with a friend, but it also pairs well with shellfish and white sauce dishes.
Torrontes is the most-planted white wine producing varietal in Argentina. The grape could be considered the yin to Malbec's yang. Three varieties of Torrontes exist: Torrontes Sanjuanino, Torrontes Mendocino (aka Mendozino), and Torrontes Riojana. Torrontes Riojana is by and large the most widely planted of the three, accounting for over 20,000 acres of vineyard land in the country. When not properly cared for the grape can produce wines lack acid and are way too high in alcohol. Fortunately Lorca's Fantasia series Torrontes is well crafted, and the wine is clean, crisp, and bright, not flabby and hot. This wine is great with seafood, chicken, and ceviche.
4.
Southern Right - Sauvignon Blanc - Walker Bay, South Africa 2010 - $19
Southern Right is a boutique South African producer that specializes in Pinotage and Sauvignon Blanc. It was founded as recently as 1994 by Anthony Hamilton Russell, and the Sauvignon Blanc remains the wineries best seller. The label takes its name from the Southern Right whale that frequents the cool Walker Bay, and with every bottle sold Russell contributes a donation to the Southern Right whale conservation. Not that I need a reason to feel good about drinking, but it doesn't hurt to know I'm saving the whales every time I pour a glass. This wine is racy, with citrus fruit flavors and aromas. It pairs well with salads, garlic chicken dishes, and whale...kidding! On second thought...
5.
Mollydooker - 'The Violinist' Verdelho - Adelaide, Australia 2010 - $25
Named after the Australian term for a lefty, Mollydooker is an outstanding Australian producer. The winery is owned and operated by left-handers Sarah and Sparky Marquis. Sarah and Sparky have spent the last decade or so making wine and building brands around Australia. In 2005 they decided to make wine exclusively for their own project, Mollydooker. The name the Violinist comes from the days when Sarah was forced to play the Violin right handed so she wouldn't poke her right handed neighbors in the eye with her bow. All of their wines are labeled with clever, quirky names that are linked to a story about their lives.
The Mollydooker Violinist is made from the Verdelho grape a white wine producing varietal native to Portugal, specifically the island of Madeira - not to be confused with the Verdejo grape of Spain. The Australian style is widely prized for its intense flavor and oily texture. The Violinist Verdelho is big and powerful with aromas of honeysuckle and lime. A great pairing for creamy pasta dishes, and it can even stand up to veal.
6.
Inchanka - Bonarda - La Rioja, Argentina 2007 - $15
Inchanka, translated "Water of the Condor," is a relatively young producer in Argentina. This wine is imported by John Larchet of the World Wine Headquarters, a company that has an outstanding portfolio full of delicious treats. If you ever see a bottle with the WWHQ sticker on it, pick it up. In my experience, they only carry good juice.
This wine is made from the Bonarda grape native to Italy. In Argentina the grape is the second most widely planted red varietal. The Bonarda by Inchanka is loaded with concentrated red and black fruit aromas and flavors. The fruit is complimented by plenty of spice and a smoke-like characteristic. This wine is a great match for red meat, especially grilled.
7.
Paringa - Cabernet Sauvignon - South Australia, Australia 2008 - $10
Paringa winery was established by the Hickinbotham family in the late 1990's. Their 2000 Cabernet Sauvignon was the first $10 bottle to get a 90 point rating from the Wine Spectator. What solidified Paringa's place on this top ten list is their outstanding commitment to quality. Year after year they produce value-packed wines with great flavor and character, which is more than I can say for almost any other $10 Australian wine. This red is loaded with black fruit flavors of currant and blackberry. Its weight, tannin structure, and acidity make it a prime candidate for a big ol' steak, especially a top sirloin.
8.
Decoy by Duckhorn - Zinfandel - Napa Valley, California 2008 - $22
Duckhorn was founded in the mid 1970's by Dan and Margaret Duckhorn, and while this winery is by no means "new", the 2010 release of their 2008 Decoy Zinfandel marked the first vintage of this spicy devil. Duckhorn is a large, well-respected producer in Napa. They regularly receive high accolades from various industry specialists and trade magazines. The Decoy series has allowed them to showcase their Napa Zinfandel at a "non-Napa" price. For the first run of this red they produced over 9000 cases, no small amount for a market "test" batch. This juicy red pairs well with Cajun spiced pork, turkey, and beef.
9.
Bodegas Volver - Tempranillo - La Mancha, Spain 2007 - $16
Volver could be my new love affair. Imported by Spanish wine icon Jorge Ordonez, this delectable red highlights the robust flavors and aromas of Tempranillo. It comes from the very large La Mancha sub-region of Spain. I say very large because La Mancha accounts for nearly one third of all the wine produced in Spain. This wine is full-bodied, with flavors and aromas of black and red fruit smothered in spice. This, coupled with its well integrated tannins, makes it a great pairing for lamb and beef. This wine gets better with each vintage, leaving me very excited for the 08'!
10.
Quinta do Vallado - Red - Douro, Portugal 2007 - $19
While the Quinta do Vallado has been in the Ferreira family for six generations, it has only been in the last 10 years that we've seen the true quality this estate is capable of. It was in the late 1980's that the red wines of Portugal took a turn for the better. Before that time, grape prices were too low and growers made only enough money to sustain their businesses - updating equipment and staying current with technology was out of the question. But a surge of quality-conscious wine producers soon paved the way for what is now an encouraging wine industry.
For years the Ferreira family produced Port wines, but in 1993 they chose to steer their family winery in a different direction. It was at this time they took a quality-focused approach to red and white still table wine production. The 2007 Quinta do Vallado basic Red scored a 93 point rating in the Wine Spectator, a 92 point score in Wine & Spirits, and a 90 point rating from Robert Parker of the Wine Advocate. The wine is a blend of 5 native Portugese varietals, including Touriga Franca, Touriga Nacional, and Tinta Roriz. The wine is muscular, with concentrated red fruit characteristics. A monster like this deserves a roast, a steak, or simply a refill.
While some of these producers have been around for quite a while, it's only recently that their production has gained enough attention to be recognized on the international wine scene. Think of this list as an opportunity to try wines you've never heard of, a project, if you would, for 2011. I hate to give homework, but if it involves drinking, I figure it's not a bad assignment. I would love to hear about your "new" 2011 wines, so contact me on
Facebook
or via
email
.
For more incredible wine picks and delicious pairings, check out
Cru Wine Online
. We pair original recipes with delectable wines, and bring them to you in an entertaining video short, complete with a brief explanation of the wine, the dish, and the pairing.
Sign up today for a 6 Month Membership and receive a
FREE wine glass set
, a $19.95 value. Life's short, so drink it up. At only $7.99/month you can't afford not to! Happy New Year.
Salut,
Nicholas Barth
Certified Sommelier
Wine Director