'Tis the season to drink too much eggnog, stumble around the Christmas tree, and tell your family what you really think of them. And since you'll be forced to face them again, you might want to consider offering a cool wine gift as an olive branch to smooth things over after your outburst. I compiled my own list in advance, because let's face it, this isn't hypothetical in my house. So here's a sneak peek at what my family will be getting this Christmas.
1.
Cru Wine Aerator
I realize that ranking the
Cru Wine Aerator
as number one may seem like a shameless plug, but I honestly do believe that it's the perfect holiday wine gift. And this is also a shameless plug. When Cru decided to offer accessories, I set out on a mission to find functional, affordable, and practical wine necessities. And the first item I selected for the
Cru Wine Shop
was this aerator.
What drew me to this particular design for the signature Cru Wine Aerator was it's ability to act as a drip stop (so you no longer have to worry about staining your table cloth) and the in-bottle style that aerates as you pour rather than requiring an extra hand. It fit the criteria for a Cru product, and at just under $15 it's one of the most practical and affordable wine accessories on the market. You can't go wrong stuffing a stocking with a Cru Wine Aerator.
Watch this video
to learn more about the Cru Wine Aerator.
2.
Vinturi Wine Aerator
To prove I'm not biased, number two on this list is an aerator from a competitor. The
Vinturi
wine aerator comes with all sorts of bells and whistles, and is a staple in tasting rooms across the country. To be honest, I like this device, and I think it does a great job of infusing your favorite wine with air. I'm just not in love with the fact that you have to hold it over the glass and aim the wine through it as you pour. It can get messy, and you still have the problem of rivulets dripping down the bottle to create stains. Vinturi did come out with a
stand
that holds the aerator so you don't have to - a nice feature, but another expense.
Vinturi also offers a
new aerator
for white wine lovers. I don't know if I'm sold on the idea of needing a separate aerator for your whites and your reds, but it's another gadget to collect. Those of you with big families to offend might need extra peace offering options, so I figured it was worth mentioning.
3.
Rabbit Lever Pull Corkscrew
There are a number of
lever pull corkscrews
available, but the best-selling design by Rabbit seems to grace the largest number of wine-loving counter tops across America. This easy-to-use, stylish opener allows you to remove corks effortlessly.


The Rabbit Kit -
a covered storage case containing a foil cutter, drip-stop ring, bottle sealer, wax remover, and extra worm -
makes this an even more appealing gift option, perfect for smoothing things over with your mother after insulting her Christmas sweater collection.

4. Electric Push Button Corkscrew
The
electric push button corkscrew
is a great holiday gift for the gadget-loving wino that has everything. This sleek and simple extractor literally removes just about any cork with the push of a button. Simply cover the top of the bottle, push the button and voila, you're ready to pour. It even has a reverse button to remove the cork from the worm. While I still enjoy the romance of the old butler's friend, I have to admit this is a pretty cool holiday gift. There are a number of brands available, and they're all comparable, so don't spend more than $35. Unless of course you happened to reveal your cousin's extramarital affair...with another dude. That might warrant a splurge. I wonder if I can get one bejeweled with diamonds?
5. Wine Refrigerator
Okay, this is a broad category. But I couldn't choose just one. Wine refrigerators range from capacity of 2 bottles to 200, and from simple counter top models to top of the line appliances with a dual wine zone option. The only necessary feature is temperature and humidity control, all the other extras are really about what the recipient would want. Heavy drinkers, er...wine connoisseurs might enjoy larger storage capacity and a refrigerator with front exhaust for under-counter installation, while the occasional sipper would be satisfied with a small counter top style.
If you're really looking to splurge - say, during your rant, the truth about your aunt's not-so-natural looking hairpiece slipped out - pick up a model that offers dual temperature control, like the one produced by
EdgeStar
. These store reds and whites at optimal service temperature for each. As a heads up, a decent wine refrigerator will run from $100-$800. Don't waste your money on a cheap one, it won't hold its temperature well.
6. Temperature Controlled Wine Chiller
This is the ultimate wine gadget. So if you want to distract someone from the slurred put-down you delivered mere days ago, this is just the shiny object to dangle in front of them. This counter top device ensures your wine reaches and holds perfect service temperature. I really like the one available at Sharper Image. As they explain: "the chiller's expansive menu incorporates more than 70 preset wine varieties, with temperatures selectable by country or wine type, or you can program in your own custom temperature to suit your preference." What more could you want?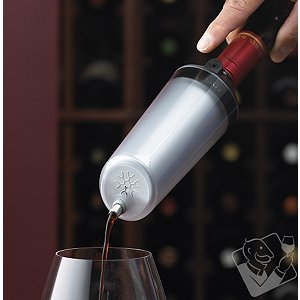 7. Instant Wine Chiller
This cool gadget by
Ra
vi will bring your wine from room temperature to service temperature in just seconds as you pour. The best part: it's easy to use. Simply place the device in your freezer about an hour before you need it. When you're ready to use it, remove it from the freezer, insert it into your bottle, and pour. The wine passes through a frozen steel chamber and right into your glass, chilled to perfection. A fingertip-controlled air inlet helps you adjust the temperature and prevent dripping. These will cost you around $40 this holiday season, but make for a very unique gift idea.
8. Cru Wine Online Gift Membership
This may seem like another shameless plug, and that's because it is. But then again, it's my top ten, and I wouldn't want to disappoint myself by not making the cut. For those of you unfamiliar
with Cru Wine Online,
our revolutionary web-based wine entertainment service provides users with wine picks, useful information, original recipes, and lots of laughter...or at least a few giggles. Cru Members can access hundreds of recipes and a pairing for each, to prepare delicious duos for any meal, any course, any occasion. Our users can even create personalized online wine tastings, viewable whenever, wherever, and with whomever you like. With these unique features, we're revolutionizing food and wine. Who doesn't want to be a part of that!

Gift membership options include a
6 month ($47.95) or 1 year ($95.88) subscription, which starts when the recipient logs in for the first time. Upon account activation, they have access to: hundreds of Cru Wine & Recipe pairings; Cru Wine Podcasts, which include interviews with the industries top winemakers; discounts in the Cru Wine Shop; and access to the Cru Wine Forum. This really is the gift that keeps on giving. S
ave it for the family member who holds a grudge, because after this, he won't be able to.
9. Wine Club Subscription
I'm not a huge fan of wine clubs, because with the $25 or $50 dollars of my monthly wine budget, I would rather just go purchase what I like best. But that said, wine clubs provide you with an opportunity to taste wines you wouldn't normally buy, and usually at a discounted price. There are hundreds to join, from winery-specific clubs to the Wall Street Journal to international clubs, and even one by the NRA (hopefully you didn't piss off the gun-toting family member who would want to receive that one!)
Personally I think the
Wall Street Journal's Wine Club
is one of the best available. They pick cool bottles, and at just under $6 a bottle, it won't break the bank . You can also check out the
Wine Of The Month Club
, where each month you receive two wines for around $20 - you can even choose whether you get two reds, two whites, or one white and one red. Even if they're not for me (or you), wine clubs can make a great gift.
10. Wine Basket
When all else fails revert to the good old fashioned wine basket. Make your own, buy one online, check the shelves at your local wine retailer, you can't go wrong.
Wine.com
has a great selection that fits into just about every price point, and you can have it delivered right to the recipient's door...you know, in case you can't face your grandma after ridiculing her for her porcelain cat figurines.
Love what you read or hate it, I wanna know what
you
think! Leave a comment here or harass me on
Facebook
,
Twitter
,
LinkedIn
, or Google+ (handle tastewineonline@gmail.com). And don't forget to "like" Cru Wine Online on
Facebook
and follow us on
Twitter
for more wine-related fun. And of course, for spectacular food and wine pairing entertainment, please visit us at
CruWineOnline.com
. You didn't think I'd miss out on an opportunity to throw in one last plug, did you?
Salut,
Certified Sommelier
Wine Director