It's said that one in four Americans give the gift of a fruitcake during the month of December. So like it or not, there's a pretty good chance you'll find yourself stuck with one this holiday season. Maybe you like them, maybe you don't, but before you toss yours in the trash or re-gift it to your least favorite cousin, consider how the right wine might just make it worth keeping. From liquor-soaked to tropical fruit, there are a variety of fruitcakes available, and a wine for each. This is why I put together my list of the top ten fruitcake wine pairings.
1.
Graham's - '10-Year-Old' Tawny Port - Douro, Portugal NV - $35
When it comes to wine and fruitcake, you can't go wrong with a delicious tawny port. This value-packed treat by Graham is no exception. When pairing wine with dessert, you want the glass to be as sweet or sweeter than the dish. This puppy has more than enough sugar to compliment, ensuring neither the dish nor the wine get lost. And its apparent spice component will draw out the spices in your fruitcake.
Brandy-soaked fruitcake brings a distinct flavor and an apparent alcohol component to the pairing, so this variety can overpower light wines. But the tawny by Graham has more than enough weight and alcohol to compliment. If pairing an alcoholic dessert with more alcohol isn't a recipe for holiday cheer, then I don't know what is!

2. Hardy's - 'Whiskers Blake' Tawny Port - South Australia, Australia NV - $13
While a wine should only be called Port if it comes from Portugal, this producer does a nice job of mimicking the style and stealing the coveted title. It's a great alternative to spendier traditional Port from Portugal. Like the Graham's, this light-colored fortified dessert wine has the spice, flavor, weight, sugar, and alcohol to enhance just about any fruitcake. Improving on the world's most hated dessert might not sound like much of an accomplishment, but trust me, these wines had their work cut out for them. The Hardy's, like the Graham's, is a non-vintage, which means the fruit used to make it came from several years' grape harvests. Overall this tawny from Australia has a little extra kick, making it a great wine not only for the fruitcake, but also help ease the pain of having to spend time with your family during the holidays.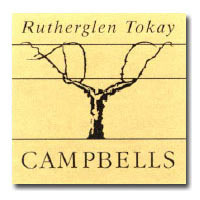 3. Campbells - Tokay - Rutherglen, Australia (375ml) NV - $19
This next top-tenner also stole its name from a prestigious style of wine. In Hungary, Tokaji is a delicious dessert wine produced from botrytis (noble rot) infected grapes. This wine is made from the Muscat varietal (aka. Moscatel, Moscato, Muscadelle, etc), and is slightly fortified, resulting in a high 17.5% abv and dried fruit flavors and aromas. These components, along with its high sugar content and spicy notes, make it a perfect for your holiday fruitcake, especially if it's filled with raisins.
4. Chambers - 'Rosewood' Muscadelle- Rutherglen, Australia NV (375ml) - $18
Number four literally tastes like liquid fruitcake. Like the Campbells, this wine is made in the Rutherglen sub-region of Australia. Also like the Tokay by Campbells, this wine is made from the Muscadelle grape, a blend of six to ten of your old Muscadelle grapes to be more specific, and is fortified to give the same alcohol and surge of sugar. If you believe that like pairs well with like, then this one's right up your alley.
5. Quady - 'Essencia' Orange Muscat - Madera, California 2008 - $20
Close your eyes and think oranges and apricots. The Essencia by Quady is another fortified dessert wine, but this one is made from the Orange Muscat grape. Orange Muscat is native to France, but today little grows in the area. In fact, most of the plantings of this varietal exist in Italy and Australia. Andrew Quady, owner and operator of Quady wines, has taken this native French varietal and perfected it in the warm climates of Madera county in California, not be confused with the Madeira region of Portugal. If you have a fruitcake with dried apricots, oranges, and peaches, add a touch of honey and this is your ideal pairing.
6. Chateau Ste. Michelle - 'Eroics' Riesling - Columbia Valley, Washington 2008 - $24
A partnership between Washington wine giant Chateau Ste. Michelle and German Riesling legend Ernst Loosen of Dr. Loosen, this wine is the perfect balance of weight, flavor, and sugar. The reason I chose a Washington State Riesling over one from Germany is because the Pacific Northwest style tends to have more body, and the fruit flavors and aromas are usually ripe. This wine's lush characteristics of peach, pear, and apricot make it a great pairing for just about any "non-drunken" fruitcake. Well-balanced acidity and sugar make this a great wine to enjoy all on its own if you just can't bear to eat the fruitcake.
7. King Estate - 'Vin Glace' - Willamette Valley, Oregon 2007 (375ml) - $15
The term Vin Glace (Vin de Glace) is French for Ice Wine, called Eiswein in Germany. Ice Wines are produced from frozen grapes either naturally, by leaving the grapes to hang on the vine until the temperature drops below freezing or artificially through cryoextraction. Cryoextraction, which is basically putting the grapes into a freezer, is used in places and vintages where the temperature doesn't get low enough to freeze the grapes naturally. Traditional producers from notable Ice Wine-producing countries like Canada and Germany frown on this method of production. The King Estate Vin Glace is made from 100% organically grown Pinot Gris grapes frozen with the cryoextraction method. The end result is a sweet wine full of tropical fruit and apricots, perfect for tropical fruitcakes.

8. Bricco Riella - Moscato d' Asti - Piedmont, Italy 2009 - $12
Yhis bubbly made from the Muscat grape, called Moscato in Italy, comes from the Asti sub-region inside the greater Piedmont region. This delightful little sparkler is full of fresh flavors and aromas of green apple, pear, and lime. This wine's wonderfully racy acidity, low alcohol content, and bubbly texture make it a great compliment for most fruitcakes. For only $12 this bottle is a great value and a real crowd pleaser, so convince your friends and family help you through the fruitcake, and reward them with this pairing.

9. Banfi - 'Rosa Regale' Bracchetto d'Aqui - Piedmont, Italy 2009 - $20
This slightly effervescent red by Banfi makes a great pairing for the fruitcakes that have dried red fruits and berries. Made from the Bracchetto grape, this wine comes from the Aqui sub-region, which like the Asti sub-region is located in Piedmont, Italy. It displays characteristics of strawberries, raspberries, and cherries, and has a the perfect sweetness, bubbly texture, and weight to pair with fruitcake, especially a chocolate one.

10. Pacific Rim - Framboise - Columbia Valley, Washington 2009 - $14
Number ten on this list tastes like bottled raspberries, and for good reason. It's made from raspberries grown in Mount Vernon, Washington. Framboise is kind of a wine, because it's fermented fruit, but is often considered more of a beer. Pacific Rim winery is owned and operated by Randall Grahm of the famous Bonny Doon label. This wine solidified its spot on this top ten list because it can make literally any fruitcake palatable. Its 20% ABV gives it enough weight to hold up to dense fruitcakes, and it has enough sugar and intense fruity flavors to take on the fruitcake covered in dried fruit.
If you can't bring yourself to eat the fruitcake, consider this your list of sweet wines to pair with good company. Travel safely this holiday season and enjoy your time with your loved ones. Merry Christmas!
For more incredible wine picks and pairings, check out
Cru Wine Online
. We pair original recipes with delicious wines, and bring them to you in an entertaining video short, complete with a brief explanation of the wine, the dish, and the pairing.
Sign up today for a 6 Month Membership and receive a
FREE wine glass set
, a $19.95 value. Life's short, so drink it up. At only $7.99/month you can't afford not to! And while you're there, don't forget to finish your Christmas shopping in the
Cru Wine Shop
.
Salut,
Nicholas Barth
Certified Sommelier
Wine Director