When it comes to the holiday season, I think family, friends, co-workers, and wine. Lots of wine. I find the wine makes everything else on that list more tolerable, so I start with a glass at Thanksgiving and drink right on through to the New Year. But no one likes to drink alone, so I make sure the chubby guy in the red suit brings a few treats for my family and friends too.
Selecting wine for a holiday dinner or to put under the tree for a loved one can be a bit intimidating. So before you go dashing through the snow looking for that perfect wine gift, consider these tips to help in your adventure.
1. Argyle - Extended Triage Sparkling Wine - Willamette Valley, Oregon 2000 - $60
Nothing says holiday spirit quite like a bottle of bubbly. Sparkling wine is incredibly versatile, and thus makes for a great gift. This is because it can be drank in celebration, with a meal, or for no good reason at all. I like the Argyle Extended Triage for two reasons. One, it is absolutely delicious. It has depth and character, and the right component balance to last for another couple of years. Second, it is the only domestic sparkling wine to make Wine Spectator's Top 100 list. While I'm not a ratings whore, I will say that is a pretty remarkable feat; one that Argyle certainly earned. The 2000 Extended Triage makes for a great gift to give a loved one, co-worker, or just to bring as a guest to a holiday celebration.
2. Pierre Sparr - Alsace One - Alsace, France 2008 - $13
Looking for something a little less expensive? The Alsace One by Pierre Sparr should be right up your alley. This food-friendly, slightly sweet white is a real crowd-pleaser. It'll satisfy even the pickiest drinkers. It's a great gift for the wine collector who has everything, or nothing. If he has nothing he likely doesn't collect, and is looking for something delicious to enjoy right now. If he collects, chances are he would love a slightly sweet white to entertain guests with. In addition, because this wine is so food-friendly, it's a fabulous gift for your holiday party host. Affordable, delicious, easy to drink...these make Alsace One a great gift bottle this season.
3. La Crema - 'Russian River' Chardonnay - Sonoma, California 2005 - $27
I like to give La Crema to the "name collector". La Crema is like the Reebok of wine. Sure they make wonderful wine, but name recognition is what really sells their juice. No need to ask how much was spent on this one, it's a dead give away. This gift says "We're more than acquaintances, but I'm not going to break my bank for you." It let's your loved one or friend know you reached to the top shelf, but they can still drink it anytime.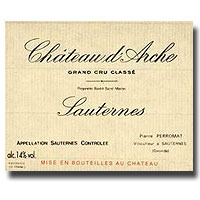 4. Chateau d'Arch - Sauternes - Bordeaux, France 2005 - $31
Chateau d'Arch's 2005 Sauternes is a great gift for the collector. This bottle won't leave you penniless, but still has another decade or so left to age. Sauternes is a region in France that produces sweet, concentrated whites from Semillion and Sauvignon Blanc. This wine is full of honey and apricot aromas with wonderfully sweet flavors, and the best part, it's only $31. Sauternes from great vintages like 2005 can range in price from $50 to $500. This is a great value, plus it's delicious. Pick up a bottle and give it to your friend who has everything, they will appreciate it. If they don't know what it is, tell them it's a delicious sweet wine from France that pairs well with desserts like Creme Brulee or Peach Compote, but will also stand up to Foie Gras. If you get a blank stare just tell them it's nummy and rare.
5. A to Z Wineworks - Pinot Noir - Oregon 2008 - $20
I have been drinking and writing about A to Z Wineworks Pinot Noir for the last three years. I first discovered this wine in a blind tasting and was shocked when I found out the price. Upon further investigation, I discovered I liked their style - a lot. Their slogan is "Aristocratic wines at democratic prices." For only $20, this is a steal, but wait there's more! This wine a 90-point rating from the Wine Spectator, solidifying its spot on the magazine's Top 100 list. This bottle is practical, affordable, and lets the recipient know you did your homework. It makes a great bottle to give to just about anyone because it's a light red, and pairs with just about any dish. This factor also makes it a great wine to bring to a holiday party. It's easy to find in retail stores, so buy one for yourself too. You're going to love it!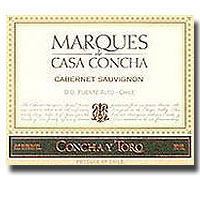 6. Marques de Casa Concha - Cabernet Sauvignon - Maipo, Chile 2008 - $22
This next top-tenner makes a great gift for the Cab-lover. This bottle is fairly easy to find, but is often passed over by the "I only drink Napa Cab" drinker. This one will blow your hair back, plus it's easy on the wallet. It's big and bold and will compete with many of the bottles in their cellar from Napa that retail for $35 or less. Because it's so big, I might not suggest bringing it to dinner if you are planning a Turkey or Ham. It's a bit to tannic, and would beat up the dish. But put a bow on it, and set it under the tree. It's a bottle that the recipient won't feel bad about opening, and will feel so good after tasting.
7. Taurino - Rosso Reserva - Salice Salentino, Italy 2006 - $14
Looking for something red and unique for a steal? The Taurino Salice Salentino is just the one. This approachable red is incredibly versatile, and will pair well with many dishes, especially pizza. The wine lover who has everything will appreciate the fact that they have something to open that night or soon as a "daily drinker." It's a cute little red, and something most people
likely
haven't tried, and it's easy to find at your local retailer.
8. Cyrus by Alexander Valley Vineyards - Red Blend - Sonoma, California 2006 - $55
While Sonoma has struggled a little bit in the new Millennium this producer continues to make good quality red wine year after year. Tom Stevenson of the Southerby's Wine Encyclopedia said that Alexander Valley Vineyards' Cyrus red blend could easily be classified as one of California's top ten red blends. The best part: it's under $100 and a tad obscure. This bottle makes for a great gift for the person who doesn't have a cellar. Consider this their "starter bottle". For $55 you can pick up a red that will age for 3-5 more years, which is perfect for the non-collector, because he often buys special bottles, but can't wait to drink them. If you are looking for a special gift for your boss or co-worker and you have a few bucks to spend, make it a Cyrus.
9. Graham - 10-Year-Old Tawny Port - Douro, Portugal NV - $35
I love to give the gift of Port during the holidays. I think it's because I live in a place where it snows, and I can think of nothing better than curling up next to the fireplace with a blanket and a glass of port...well, almost nothing better. The 10 year old Tawny by Graham is a fantastic Tawny for the price. This style is light brown in color and displays aromas of brown sugar, caramel, vanilla, and burnt almonds. It's a great companion to dessert or stinky cheeses, but also works great on its own. Because it's fortified (a spirit - brandy - has been added), it holds up a little longer once it's opened. Most wines like a Pinot Noir or Sauvignon Blanc don't make it much past a few days, but this wine will be good for a couple of weeks once opened. Perfect to nip on from time to time. This is a great gift to give anyone because they will always find a special time, dish, or partner to drink it with.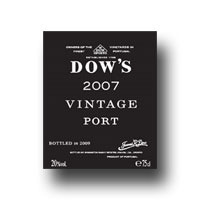 10. Dow - Vintage Port - Douro, Portugal 2007 - $80
Last but not least we have the 2007 Dow Vintage Port. This monster says "I frickin' love you" or "I really need a raise." For only $80 you can purchase a bottle of wine that was a perfect 100 on Wine Spectator's rating scale. It also ranked number 14 in the world in 2010. The best part: your recipient can lay it down for a decade or two because it needs some time to mellow. This bottle is a statement and a quality product, so don't give it to just anyone. Instead save this bad boy for your boss, your spouse, or yourself. What? The holidays are about giving, so don't leave yourself out.
You may notice I didn't include a single bottle of Champagne on this list. I felt it might be a bit too cliché, and your money could be better spent elsewhere. What I like about this list is there is something for everyone. So whether it's your boss, your sales team, your mom, your husband or your best friend, you should be able to find something in there they will enjoy.
For more information about me, more incredible wine picks and delicious food and wine pairings, check us out online at
Cru Wine Online
. You'll find daily Wine and Recipe pairings just for our users. We pair our chefs' recipes with delicious wines, and bring them to you in an entertaining video short, complete with a brief explanation of the wine, the dish, and the pairing.
Sign up today for a 6 Month Membership and receive a FREE wine glass set, a $19.95 value. Life's too short not to enjoy every sip, so drink it up. Entertain your senses with
Cru Wine Online
's
monthly membership. At only $7.99/month you can't afford not to! And while you're there, don't forget to finish your Christmas shopping in the
Cru Wine Shop
.
Salut,
Nicholas Barth
Certified Sommelier
Wine Director