On average each person in the US eats over 200 pounds of meat annually. That's more than half of a pound a day! Couple that with the fact that we, as a nation, consume more wine at 760 million gallons than any other country in the world, and you have yourself this week's blog topic.
Even though the grill is a steak's best friends, wine and steak pairings aren't just for the summer months. While those of us crazy enough to live in states that reach -20 degree F do put away our grills come fall, we don't put down the steak knife. So let's cut into this delicious list of pairings.

1. Rib Eye

Caymus - Cabernet Sauvignon - Napa, California 2006 - $70
The rib section is home to the Prime Rib and Rib Eye steaks. These cuts are loaded with flavor thanks to heavy marbling. Rib Eye is the boneless interior of the Rib steak, and some argue it's the most flavorful cut because it's so tender and succulent.
The reason I selected the Caymus Cab from Napa for this pairing is because of its tannins. Tannins (mouth-drying astringency) beg for protein, and can cut right through fat. Cabernet Sauvignon from Napa has plenty of grippy tannins, making this wine a great pairing for the Rib Eye. Caymus is an iconic producer in the region, and consistently makes good-quality wine year after year. The 2006 vintage in Napa was great for Cabs. While it was a bit rugged in its youth, this wine has had a little time to mellow and harmonize. Being only four years old, however, its tannins are still firm enough to hold up to the steak.
2. Flat Iron

Torres - Salmos - Priorat, Spain 2005 - $32
Our Flat Iron steak is the Butler's steak in the UK or the Oyster Blade in Australia and New Zealand. This relatively new cut comes from the shoulder, and also has a significant amount of marbling. The Flat Iron was rated by the North American Meat Processor (NAMP) buying guide as the second most tender cut after the Tenderloin.
Priorat is a DOCa (Spain's highest quality) located in the Northeast of Spain. The region is well known for producing big, powerful reds from native and international varieties. The Torres Salmos is made up of Garnacha (Grenache), Syrah (Shiraz), Cabernet Sauvignon, and Carinena, a classic Mediterranean varietal. This wine has the body and tannins to hold up to the marbling in this cut, and a symphony of flavors to enhance the pairing. The '05 received a 90-point rating from the Wine Spectator.
3. Filet Mignon (Tenderloin)
Chateau Frombrauge - St. Emilion - Bordeaux, France 2005 - $37
In the hind quarter, directly behind the ribs we find the Tenderloin. The Tenderloin runs along the sides of the spine, and is usually taken in two long, snake like cuts. Although this cut doesn't have the marbling or intensity of flavor of the Rib Eye or Flat Iron, it is supremely tender, hence the name. Filet Mignon is the French term for the cut taken at the large end of the Tenderloin. This is traditionally one of the most expensive cuts of beef.
The Chateau Frombrauge from the St. Emilion sub-region comes from the Right Bank of the greater Bordeaux region. While the Left Bank, with regions like Medoc, Pauillac, St. Estephe and many others, is dominated by the Cabernet Sauvignon grape, the Right Bank tends to make the majority of their wines from Merlot. Like Cabernet Sauvignon, Merlot has plenty of weight and structure. But Merlot tends to mellow a little better than Cab. The vintage I suggest is 2005, a monster in Bordeaux. While 5 years aging is not enough to drink this bad boy on its own, it will have the perfect tannin structure and balance to enhance this tender cut of beef. Plus, I figure this is kind of a play on the "grows together, goes together" concept of food and wine pairing seeing as this wine is French and so is the cut, although not necessarily the beef.
4. New York Strip

E. Guigal - Cote Rotie 'Brune et Blonde' - Rhone, France 2006 - $70
The New York Strip, like a portion of the Tenderloin, is taken from the short loin just behind the ribs. Because it comes from a muscle that doesn't do much work, Strip steak is very flavorful and incredibly tender, although not as tender as a Rib Eye or Filet Mignon. Internationally it's called the Club steak, but it also goes by the names Strip Loin, Shell, and Kansas City Strip in North America.

Cote Rotie, found in the Northern Rhone region of France, produces big reds from Syrah with just a dash of Viognier to soften them. The term Brune et Blonde goes back to a story of the land owner having two daughters, a blond and a brunette. On their wedding days the father/land owner gave each of his daughters a piece of his land and named one Brune for the brunette and one Blonde after the blond. This wine is a blend of grapes from each site. E Guigal is a great producer who makes rich and full-bodied, yet elegant wines from Cote Rotie. The 2006 has plenty of tannins to chew through the meat, but has matured with time, so it won't overpower the tender cut. A great marriage of power and finesse.
5. T-Bone

Castello di Brolio by Baron Ricasoli - Chianti Classico - Tuscany, Italy 2006 - $55
The T-Bone is like a twofer because it's cut from both the short loin and tenderloin. The "T" shaped bone divides a small Tenderloin and a large Strip, making it an indecisive diner's dream come true. This steak has the best of both worlds - the most tender cut on one side, and one of the most flavorful on the other. Due to its large size and high-quality, it is often one of the priciest steaks on the menu.
Because we have two cuts of beef, we want a wine that will be gentle to our little Tenderloin, but in the same breath one that won't get overshadowed by the rich Strip. Chianti Classico is a sub-region inside of the greater Chianti region of Tuscany that is classified as the "original" Chianti delimitation. The wines here are made up primarily of the native Italian Sangiovese grape. This full-bodied, spicy little devil is an incredibly food-friendly varietal. Baron Ricasoli is one of the oldest producers in the world, and is still family owned and operated in its 32nd generation. The 2006 Castello di Brolio by Ricasoli was given a 96-point rating by the Wine Spectator, solidifying its spot as number five on their top 100 wine list. While I'm not a ratings whore, I will agree this is a great quality wine. This wine will be able to chew through the Strip without overpowering the Tenderloin, a tricky balancing act.
6. Porterhouse

Chappellet - Cabernet Sauvignon - Napa California 2006 - $42
The Porterhouse Steak is basically a thicker T-Bone with a larger Tenderloin. There's some debate over what truly separates the two, but for our purposes, it's not really important.
With this pairing I wanted something with structure, but also something that had a bit of age to it so it wouldn't overpower either cut. As I mentioned earlier, Napa makes big, robust, tannic Cabs. Chappellet is a quality Napa producer that instead makes well-balanced reds, showcasing good levels of alcohol, acid, and tannin. With its apparent tannin, but mellowed flavors and textures, the 2006 has had enough time to soften for our Tenderloin, yet still retains enough structure to take on the Strip. A great wine with a great steak.
7. Top Sirloin

St. Hallett - 'Faith' Shiraz - Barossa, Australia 2006 - $16
Now we come to the sirloin, located between the short loin and the round section. Although less tender and traditionally less expensive than cuts from the short loin, these puppies are still incredibly tasty. The sirloin section lies on top of the tenderloin, with the top sirloin beneath it, and bottom sirloin below that. The bottom is less tender and much larger, usually what you get when you purchase a steak simply labeled Sirloin. When selecting a Sirloin steak from your butcher or on a mis en place at a restaurant, try to get a cut as close to the loin as possible. Cuts close to the short loin have a flat bone, those closer to the round section have a round bone and are less tender. Of course the most tender and flavorful of your sirloin options is the Top Sirloin, and it's always labeled as such.

Whether you select the Top Sirloin or the Bottom Sirloin, you'll want to pair it with a wine that is fruit forward and juicy. Australia is the king of juicy, fruit-forward wine, especially when it comes to their Shiraz. St. Hallett is a value-packed producer making stunning wines from Shiraz. Their Faith Shiraz is a great bottle for the price. It displays dark fruit flavors with plenty of spice. One of my favorite ways to season a steak is simply kosher salt and freshly ground pepper. This wine will enhance the black pepper, while the hearty Shiraz grape provides plenty of tannin for the meat.
8. Round Steak
Marchesi di Barolo - Barolo - Piedmont, Italy 2005 - $46
The Round steak comes from the rump. In some countries like the UK, Australia, and South Africa, it actually goes by the name Rump steak. This cut is moderately lean, and generally tough, but can showcase nice flavors. Like sirloin, the round section yields three different round cuts. The Top Round is the best of the three, but can still get a little tough on the grill. These steaks respond better to slow roasting or braising. The Eye of Round often becomes stew meat or a roast because it doesn't respond as well to quick preparation methods commonly used for steaks. And the Bottom Round is usually cut into roasts because it requires slow cooking.

For a tough cut of meat like this, we want a little muscle in our wine. And who better to provide that than the Italians. Barolo is a sub-region in the northwestern Piedmont region of Italy. This wine is made from the Nebbiolo grape, a thick-skinned, dark-colored varietal. Nebbiolo produces rich wines that are big and rich, with plenty of tannin. Many times you pay $100 or more for quality Barolo, but Marchesi di Barolo is a quality producer for the relatively low price. This rugged red will get in there and just tear apart this tough cut. A chewy wine for a chewy cut. I feel like making that noise Tim Taylor made on Home Improvement when I think about this pairing. Argh, Argh. Argh.
9. Skirt Steak
Cline Cellars - Syrah - Sonoma, California 2007 - $10
Skirt steak comes from the plate or belly of the animal, right below the rib. It's a long, flat cut that is prized more for flavor than tenderness. Technically the Skirt steak is divided into two categories, inner and outer, but there isn't a ton of difference between them. The outer Skirt steak is covered with a membrane that needs to be removed before cooking, while this was removed from the inner Skirt steak before it was packaged.
Skirt Steak is often used to make fajitas and Chinese stir-fry. Since both of these dishes display spice, I selected a wine that had a little spice itself in order to draw out these wonderful flavors. Cline Cellars is owned and operated by Fred Cline, and focuses on eco-friendly winemaking practices. This Syrah is big and bold to chew through the tough cut of meat, but has a wonderful spice to enhance any spicy flavors imparted by other ingredients. An inexpensive wine for an inexpensive cut.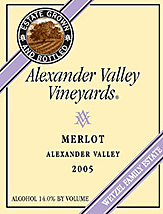 10. Flank Steak
Alexander Valley Vineyards - Merlot - Sonoma, California 2007 - $20
Last and perhaps least is the Flank steak. Flank steak, also known as Bavette, is one of the toughest there is. It comes from the strong, well exercised belly of the cow, behind the plate and below the short loin. Many mistake this cut for the Skirt steak, but they are different; the Flank is actually tougher. Like the Skirt, the Flank is best in Mexican Fajitas and Asian or Indian inspired stir-fry dishes. The Flank is best when it has a bright red color.
For this last top-tenner, I selected the Alexander Valley Vineyards Merlot. This winery is located in the Alexander Valley sub-region of Sonoma. They produce amazing wines for the price, and their Merlot is top notch. This bad boy drinks more like a Cabernet Sauvignon than it does a Merlot. It has plenty of weight and structure, making it a great match for this tough steak. Fight big and tough with big and tough.
You probably noticed there is not a white wine to be had on this list, and that's because there are very few circumstances that allow a white wine to work with steak. This is generally because whites don't have the tannins that protein, and red meat in particular, screams for. One of the specific cases in which a white will work is when the steak is served with a cream sauce, like a Bearnaise. Here you could pair to the sauce and try a full-bodied Chardonnay with plenty of oak, but still I'd recommend a Barolo or Cru Beaujolais instead.
While some of these pairings are a little pricey, they are equally delicious. I hope you get the chance to try one. For more information about me, more incredible wine picks and delicious food and wine pairings, check us out online at
Cru Wine Online
. You'll find daily Wine and Recipe pairings just for our users. We pair our chefs' recipes with delicious wines, and bring them to you in an entertaining video short, complete with a brief explanation of the wine, the dish, and the pairing.
Subscribe today and receive a FREE wine aerator, a $14.95 value. Life's too short not to enjoy every sip, so drink it up. Entertain your senses with
Cru Wine Online's
monthly membership. At only $7.99/month you can't afford not to! And while you're there, don't forget to finish your Christmas shopping in the
Cru Wine Shop
.
Salut,
Nicholas Barth
Wine Director
Certified Sommelier