It's estimated that over 5 million pounds of pizza is consumed every day in the United States. Whether it's a family get together, a football game, or a birthday party, we eat a lot of pie. But pizza is a broad term used to describe everything from frozen and delivery to specialty and homemade. To say there is one perfect pizza wine is a bold statement because there are so many ingredients, crusts, and methods of preparation used throughout the country. This post is designed to highlight versatile pizza wines that won't break the bank. So here are my top ten wine pairings for pizza.
1. Taurino - 'Riserva' Salice Salentino, Italy - $14
This is one of my all-time favorite pizza wines. Producer Taurino makes stunning reds from a blend of Negroamaro and Malvasia Nera, two common Italian grape varietals. As a general rule, Italy makes incredibly food-friendly wines, especially the reds. The best show great acidity, balance, structure, and not too much fruit, with a nice earthy component to compliment earthy toppings. This wine is no exception. It's what we like to call a "shut up and drink" wine. All too often in wine circles we want to dissect the wine - talk about its components, flavors, and aromas. This wine just screams "Don't think..DRINK!"
Taurino, as I mentioned, is the producer. The name Salice Salentino on the label indicates the sub-region. Salice Salentino is found in the great Puglia region, located in the heel of Italy's boot. The region produces full-bodied reds and smooth rosés from the two grapes I mentioned before, Malvasia Nera and Negroamaro. This wine's soft fruit flavors and juicy texture make it a great match for many pizzas, especially those with red sauce.

2. Cline - 'Ancient Vine' Zinfandel - California - $16
Fred Cline makes some of my favorite wines from California for the price. He's the grandson of Valeriano Jacuzzi, of the pump and spa fame. Valeriano owned a nice chunk of land in Oakley, California, which Fred inherited and used to make value-packed wines using Zinfandel and Rhone varietals. His award-wining wines from Rhone grapes like Mourvedre, Syrah, Grenache, and others, earned him a spot as one of California's Rhone Rangers.
The Ancient Vines Zin from Cline sources most of its fruit from old vines in Contra Costa County, the original site of Valeriano's property. This wine is super food-friendly, and a real crowd pleaser. It makes a great pairing for pizza with sausage, especially spicy sausage, with the body to hold up to hearty toppings, yet the juicy flavors to compliment and enhance the dish without overpowering. Jammy, juicy, fruity, that's Cline AV Zin's calling card.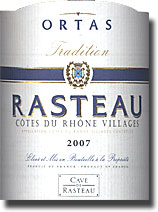 3. Cave de Rasteau - 'Ortas' Cotes du Rhone-Village, France - $13
Rasteau is an Appellation d'Origine Controlee (AOC) in the Rhone region of France, best known for their fortified dessert wines. The Cave de Rasteau is an expression of the good quality, value-packed red wines being produced there.
This wine is a blend of Grenache, Syrah, and Mourvedre, three very common grapes in the southern Rhone. What makes this wine so pizza friendly is its acidity and subtle characteristics. The French tend to produce a more refined style of wine. It won't hit you over the head with flavors and aromas, you have to dig in a little to see what the wine has to offer. This wine is just that, a subtle display of red currants, raspberry, black currants, and spice. I like to pair this with pizza because it compliments a variety of pies, especially those that are topped with goat cheese and/or mushrooms.
4. Coppo - 'Camp du Rouss' - Barbera d'Asti, Italy - $22
As I mentioned earlier, the Italians make some of the most food-friendly wines in the world, and Barbera tops that list. Barbera is a grape native to the Piedmont region of Italy. It produces wines with wonderful spicy red and black fruit flavors and aromas. But what makes Barbera so incredibly pairing-friendly is its acidity. Pizzas made with tomato sauce are acidic, and any food and wine pairing requires matching acidity. Barbera is able to hold up to even the most acidic sauces.
The Barbera grape grows all over the world, and some stunning examples are coming out of Argentina and California. But in its home, Italy, it makes some ultra food-friendly, value-packed wines. This trend is fairly recent, as in the past the country often used the grape to make insipid, bulk table wine. In the last ten to fifteen years however, Barbera has received the right kind of attention, and now producers are using it to make some really fun wines. Coppo, in particular, makes arguably the finest example from the Asti sub-region. Barberas from Asti tend to be spicy with notes of blueberry and red currant, and Coppo is no exception. This wine will make a wonderful pairing for most red sauce pizzas, even light styles like the Margherita pizza.

5. Crios de Susana Balbo - Malbec - Mendoza, Argentina - $15
Crios is made by one of the finest female winemakers in the world, Susana Balbo. Standing five-foot-nothing, this brilliant winemaker has been putting out high-quality juice for over 25 years. She was the first winemaker to be hired as a consultant, and as a result she has made wine around the world in countries like France, Spain, Italy, South Africa, Australia, and Chile. This wine comes from the Mendoza, a region in Argentina that has great conditions for growing this native-French grape. The elevation from the mountains ensures the grapes ripen well, but don't get ultra-ripe from the hot Argentinian days.
Balbo's Crios line is an expression of her personality. Crios means children or offspring, and shows the softer side of Balbo. Her Malbec is subtle, and approachable, much like her. The wine displays red and black fruit flavors and aromas, with a wonderful jammy characteristic, and of course, a perfectly-balanced acidity. This wine is a great match for almost any pizza, but its display of just a touch of smoke and spice make it ideal for brick oven or grilled pizzas.
6. Pacific Rim - Autumnus Red - Columbia Valley, Washington - $14
Pacific Rim winery is owned and operated by wacky winemaker Randall Grahm. Grahm is well known for his work at Bonny Doon in California. He's considered the original Rhone Ranger, finding great success in planting and making wines from native Rhone grapes. Grahm has an off-the-wall personality, and has pulled shenanigans like having a funeral for the cork in the New York City's Grand Central terminal to promote screw top closures.
His new venture, Pacific Rim winery in Washington state, specializes in unbelievably delicious Rieslings for the price. This wine, his Autumnus Red, is a blend of Sangiovese, Barbera, and Primativo, Zinfandel's Italian brother. This could be THE perfect food wine. You take three Italian grapes like these and put them in to a blend, what you find are the characteristics and structure to hold up to and compliment almost any dish, pizza included. For $14 a bottle this wine is affordable, and goes well with almost any pizza imaginable.
7. Novelty Hill - Syrah - Columbia Valley, Washitngon - $28
Syrah, called Shiraz in Australia, makes a great pairing for hearty pizzas, especially deep dish or Chicago style. There are some stunning examples of French Syrah, but the reason I like Washington Syrah with pizza is its slight vegital characteristic. When you start to pile on the veggies, this wine compliments beautifully.
Novelty Hill makes award-winning wines, and their Syrah is a readily accessible example of both the winery's and Washington's high quality Syrah production. Novelty Hill has received accolades from a number of wine publications, including no less than a 90-point rating by the Wine Spectator in the last four years. This full-bodied red has flavors and aromas of dark fruit, like blackberries and black cherries, along with smoked meat and green pepper characteristics that make it perfect for supreme pizzas.
8. Lobster Reef - Sauvignon Blanc - Marlborough, New Zealand - $14
We've talked a lot about red sauces because they're the most common, but it's important to have a wine in your back pocket that can juggle the cream sauce and olive oil side of the pizza world. Whilea Chardonnay from California or Australia can work well for cream sauce, I decided to go with this Sauvignon Blanc for those non-red pizzas because it has a nice acidity, and a great body to hold up to veggie pizzas where onions and peppers are used.
Lobster Reef is a "new kid on the block" in New Zealand. While their wine comes from the Marlborough region of New Zealand, it's not too Marlobourghy, if you would. What I mean by that is that while it has a nice, crisp, refreshing acidity, it's not too powerful. All too often New Zealand's Sauvignon Blanc is overly acidic, with too much citrus fruit on the nose and palate. Lobster Reef has a great balance, but still displays the wonderful citrus fruit typical of New Zealand's Sauvignon Blanc. This wine is a great pairing because its acidity will hydrate the palate after the salty characteristics of some pizza toppings.
9. La Vieille Ferme - Rosé - Cotes du Ventoux, France - $9
Dry rosés can be some of the most food-friendly wines in the world. Their vibrant acidity, texture, and medium body make them great pairing "go-tos." And no top ten list would be complete without La Vieille Ferme. This salmon-colored wine is a blend of Cinsault, Grenache, and Syrah. It's pink because the winemaker let these three red grapes soak with their skins for only 24 hours. The longer skins soak with the juice, the more pigment is absorbed. So while they could make produce a red wine from these grapes, they chose to remove the skins to make a rosé instead.
La Vieille Ferme is cousin to the great Chateau de Beaucastel, the award-winning biodynamic producer from the Chateauneuf du Pape region of France. The grapes used to make this wine come from the Cotes du Ventoux sub-region in the Rhone, found at the foothills of the Ventoux mountain. This area is prime for growing high-quality grapes. Dollar for dollar, I'm not certain there is a better rosé on the market. This refreshing little ditty has a nice body to hold up to pizza, with the flavors and aromas to compliment just about any pie.
10. Barone Ricasoli - Brolio - Chianti Classico, Tuscany, Italy - $24
This last "top-tenner" could be the greatest red wine ever produced for $24. Barone Ricasoli is one of the oldest wineries in the world. Their vineyards are in the heart of Chianti, specifically the original delimitation, Chianti Classico. All of their wines come from their estate vineyards, which means when you see a wine of theirs that has been declassified to IGT status (lower wine quality tier in Italy), the fruit has been sourced from the greater Chianti Classico region.
This wine is made from primarily Sangiovese, Chianti's principal red varietal, with a dash of Merlot and Cabernet Sauvignon. Ricaoli's Brolio scored a 96 in the Wine Spectator solidifying its spot in Spectator's Top 100 wines. This is a perfect pairing for any pizza with red sauce, and its body will help it hold up to the heartiest of all toppings and crusts. If you feel like picking up a bottle but don't have time to drink it, don't worry. Set it aside for about a decade, because this puppy has the character to age.
Well, there you have it. Of course with so many variations on this classic dish, there are plenty of wines that work, but these are the standouts. When I pair with pizza, I like to stay under $30 a bottle, and all of these wines not only have a lot to offer for the price, they also work well with a variety of pizzas. I hope you have a chance to pick up one of your favorite pies and let one of these bottles show you what it can do.
As always thanks for reading, and if you think there is a wine that should be on this week's top ten, feel free to
email me
, look me up on
Facebook
, or leave a comment here on the blog. If you haven't already, be sure to check out
Cru Wine Online
for food and wine pairing innovation.
Salut,
Nicholas Barth
Certified Sommelier
Wine Director