With the the fall season comes cooler weather, beautiful colors, and of course grape harvest. This wonderful seasonal change inspired me to focus this post on the great harvests of the new millennium.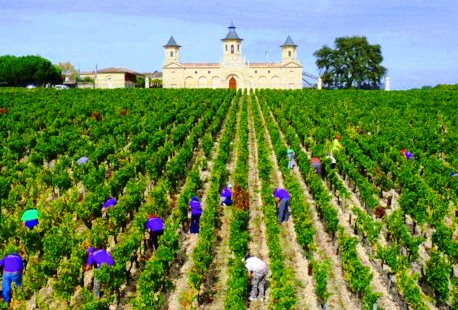 1.
Bordeaux, France: 2009
We start out this top ten list with a bullet, Bordeaux. Arguably the most controversial region in the world when it comes to the subject of great vintages, Bordeaux often blurs the line between great marketing and great wine. Take the turn of the 21st century for example. The 2000, 2003, 2005, and 2009 vintages w
ere all touted as the best vintage of the decade. In the words of J.D. from Saving Silverman, "Isn't one-and-only supposed to be, like, one? And only? "
The reason I selected 2009 over the others of the decade was for its success on both sides of the river, or should I say estuary. A wet spring season, followed by hail in some places (reducing yields) and a dry summer resulted in rich, powerful wine with balance, structure, and great aging potential. Even a shitty winemaker couldn't messed up the 2009 vintage. Although believe me, plenty tried. Other great vintages of note in Bordeaux are the infamous 1945 and 1989, and the legendary 1900.
2. Burgundy, France: 2005
East of Bordeaux is Burgundy, a region with huge vintage variations due to its climate and its affinity for the finicky Pinot Noir grape. This region was a tough one, with 2002 producing such fresh wines. But my decision to highlight 2005 came from its success in both Burgundy and France as a whole.
2005 touted a dry summer in Burgundy, and September gave way to beautiful conditions for the final ripening process. The end result was ripe, dense wine showcasing great aging potential. There are so many great vintages of note in Burgundy (that don't even include sleeper vintages like 2008), so I'm just going to mention the most recent: 1985, 1990, and 1996.


3. Piedmont, Italy: 2000
Leaving France, which was hard to do, and heading to Italy, 2000 marked a great vintage in Piedmont for all wines from Barbera to Barolo. Vintages of note from the decade include 2001 and 2006, but it was 2000 that produced high-quality wines all over the region.
The year 2000 in Piedmont was loaded with extremes. It began with a warm spring that lead into a well-distributed rainy summer. July was damp and August was just downright weird, with hail coming at the end of the month (reducing yields in places like Alba). Most producers increased their grey hair count by 200% this vintage, but when the smoke cleared, 2000 became the iconic vintage for the region. Amazing, powerful Nebbiolo based wines, racy reds from Barbera, and so much more. Other vintages of note are 1996 and 1997.
4. Tuscany, Italy: 2001
South of Piedmont to Tuscany, where it takes a little more consideration and justification because there were four really good vintages at the turn of the century. The year 2004 produced great wines in Brunello di Montalcino, but fell short in Chianti. And while 2006 and 2007 are both looking outstanding and may best the 2001 vintage highlighted here, it was hot, so alcohol levels are a bit high, especially in 2007. Overall 2001 showed more balance in the wines produced (the few that were) and yielded great wines from Bolgheri to Brunello.
Like many great vintages across the globe, 2001 was full of extremes for Tuscany. A wet winter led straight into an even damper spring that was brought to a halt in April with a late, dangerously detrimental frost. June and July were mostly dry but August and September brought the region a roller coaster of weather, filled with conditions that ranged from hot to cold and humid to dry . These extremes thinned crops and created concentrated, complex fruit worthy of this top ten list. Other recent vintages of note are 1990, 1997, and 1999. Like every other region on this list there are plenty of sleeper vintages, like 2005, which is a great wine for early drinking.
5. Douro Valley, Portugal: 2007
To Portugal and the Douro Valley, home of the country's infamous port wine production. Like any "great" vintage it is our job as the consumer to decide whether a certain year yielded better wine or better marketing. While 2007 has been touted by many as possibly the greatest vintage of all time, producing 100-point wines from certain trade magazines, 2003 has had more time to develop. This was a tricky pick for me, but ultimately 2007 shows so much greatness I had to go with my gut, or should I say palate.
Most vintage-declared years in the Douro are pretty predictable: hot and arid. But 2007 brought about strange weather with plenty of rain in the spring and a cool summer that delayed harvest by up to two weeks in some places. Yields were lower, quality was higher, and the vintage prevailed as one of the best since 2003 - the last declared vintage before 2007. Other vintages of note include 1948, 1963, 1994, 1997, 2000, and 2003. Oh, and the legendary wines of 1927. If you get your hands on a bottle call me, I'd love to join you for a taste.


6. Spain: 2005
I'm not going to sugarcoat this, Spain has had some great vintages, including some really good ones in the last decade, and I LOVE Spanish wines. But this was the hardest pill for me to swallow on this list due to a lack of consistency across the country and even within regions. With that said it was a toss up between 2001 and 2005, with 2004 getting a brief thought. And since my heart wasn't really in this one, I pretty much flipped a coin and came up with some bullshit to defend the winner (tails). So here goes.
The year 2005 in Spain yielded quality wines in the country's major regions: Rioja, Priorat, Ribera del Duero (which also produced great wines in 2004). The vintage was very dry, but not too hot. Still, yields were down as much as 40% in some areas. This resulted in a small crop full of concentrated fruit that produced balance, yet power. Other vintages of note include....uh...um...next region.

7. Germany: 2001
For our last Old Worlder on the list, we head to Germany, where there have been a string of really good vintages since the mid 1980's (excluding 2000). Germany was a toss up between 2001, 2005, and 2009, but in the end 2001 prevailed with its countrywide balance and finesse that came out of exceptionally ripe grapes at harvest.

A wet winter and spring in 2001 was followed by a heat spike in May. June was unusually cool, and July and August bounced back and forth between hot and humid and hot and dry. August, September and October were cool, but provided plenty of sunshine and very little rain, which resulted in ripe grapes that became balanced wines. Let me be clear, this one was very close. And I encourage you to keep your eye on 2009. It's going to be a doozy, especially for dry Rieslings.
8. California, United States: 2007
California has produced a number of quality vintages over the last 20 years. For this top ten spot I considered most of the decade, excluding 2003. But in the end, the textbook conditions the 2007 vintage allowed for great-quality wine to come from across the state. This progressive season yielded some of the finest wines ever produced in the US. And like 2009 in Bordeaux, the 2007 vintage in California allowed even novice winemakers to bottle quality wine. Other vintages of note include the mid 1980's and 90's, especially for Cabernet Sauvignon.
9. Willamette Valley: 2008
Like Burgundy France, the Willamette Valley prides itself on producing reds from the finicky Pinot Noir grape. And while I think there are plenty of great wines produced in off vintages, it just so happened that in 2008 the heavens opened up and blessed the Willamette Valley with perfect fruit.
I absolutely lov
e
this quote from the
Wine Spectator
as
it sums up the vintage perfectly: "Sam Tannahill, partner and winemaker at Rex Hill Vineyards in Newberg, employed a baseball analogy to express the nail-biting atmosphere of the 2008 vintage in Oregon. 'We were down five runs in the bottom of the ninth and pulled it out,' he said. 'Then we looked up and realized it was the seventh game of the World Series, and we had won. At least that's how it felt.'"
2008 yielded the best fruit ever in Oregon, which isn't saying a whole lot because the industry is really quite young by even American, let alone international, standards. However, mark my words, great wines were produced even in vintages that were deemed "terrible" by trade magazines, to include the whites of 2007 and 2009. Other vintages of note are 2002 and 2004.
10. Australia: 2005
Last, and to be honest, least, is Australia. Now I thought and thought and thought about how I could include the 1998 vintage into this top ten list, specifically thinking about the Penfold's Grange. But to be fair I had to select a millennial vintage that was good and helped build a quality wine reputation in Australia. Ergo I will highlight the 2005 vintage.
Not much justifying here, this wasn't a hard choice. Clearly the best vintage of the decade, 2005 produced balanced wines in South Australia. Unlike any other vintage on this list, this was a year that yielded bumper crops. What separated 2005 from say 2004 or 2006 was the natural acidity and low pH levels in the grapes. The best wines from this vintage come from Coonawarra and Barossa. Other vintages to look out for are...well...let's be honest, just go find some '98 Grange.


Like all of my posts and any wine rank or rating, these selections are debatable. But that's why I write, to keep you talking. Leave a comment or harass me on
Facebook
,
Twitter
,
LinkedIn
, or Google+ (handle tastewineonline@gmail.com) if you want to tell me about a region or vintage that didn't make the list. Or write me a letter, I feel like nobody writes letters anymore.
Like Cru Wine Online on
Facebook
or follow us on
Twitter
for more wine-related fun. And for spectacular food and wine pairing entertainment, please visit us at
CruWineOnline.com
.
Until next time I'm Nick Barth with Cru Wine Online saying: It's your glass, fill it with what you like.
Salut,
Certified Sommelier
Wine Director