The Australian wine industry seems to be a hot topic as of recent. From the country's strong dollar, to flooding, to a lack of demand that has resulted in an ocean of left over juice, the Aussie wine industry has gotten a bad rap. So I wanted to clarify precisely what's up Down Under. Australia today is making as-good if not better-than-ever wine, and the prices haven't really changed. Part Australia's problem derives from the fact that "critter label" wines dominate retail end caps. Producers like Yellowtail and Lindemans have become the calling card of the country's wine industry, but they have so much more than that to offer. There are some outstanding artisan producers as well as some really value-packed wines being produced. If you're looking to stretch your buck and try some good quality juice, look no further than Australia.
1. Pewsey Vale - 'Dry' Riesling - Eden Valley, Australia 2010 - $17
When most people think Riesling, they automatically think sweet. However this delicious treat by
Pewsey Vale
is dry. It's clean, crisp and refreshing, and teeters more on the style of new world Sauvignon Blanc than it does lush, sweet Columbia Valley Riesling. Operated by the award winning
Yalumba
winery
, Pewsey Vale benefits from the skillful hand of winemaker Louisa Rose. Today the estate is viewed as one of the finest producers of Riesling in the Southern Hemisphere. This particular gem by Pewsey Vale comes from the Eden Valley sub-region located in the Barossa Zone of the state of South Australia. An area that benefits from a higher elevation than the neighboring Barossa Valley region. Higher elevation provides a cooler climate, ideal for growing and producing wines with a higher acidity, especially dry whites using the Riesling variety.
2. Yalumba - 'Y-Series' - South Australia, Australia 2009 - $10
Viognier
is a variety native to the south of France but today we are seeing plantings all over the world. The grape's emerging popularity stems from the fact that it showcases the elegance of Riesling with the weight of Chardonnay. The
Yalumba
winery was founded in the mid 1800's. It's Australia's oldest family-owned winery. An innovative producer, Yalumba practices eco-friendly winemaking techniques, and are one of the finest New World producers of Viognier. If you are looking to explore new varieties but don't want to break the bank, start with Yalumba. Their Y-Series is a great bang for the buck.
3. Two Hands - 'Brilliant Disguise' Moscato - Barossa, Australia 2009 - $19 (500ml)
Brilliant Disguise is a delicious, sweet, slightly sparkling white wine produced by Two Hands. The 'two hands' are Michael Twelftree, a former construction worker, and Richard Mintz, an accountant. Sounds like a bang up wine team right? The two started the company in 1999 with the idea of creating world-class Shiraz. Their wines are critically acclaimed, rarely receiving ratings under 90 points from the Wine Spectato
r. The Two Hands Brilliant Disguise comes from the Barossa Valley sub-region of South Australia
, and the grape used to make this wine is Moscato. In Australia alone the grape goes by three different names: Muscat à petits grains, Brown Muscat or Frontignac. Two Hands refers to this grape as Frontignac, which again is simply a synonym for Muscat. Looking for that perfect pairing for stinky cheeses or fruit desserts? Look no further than this delectable Moscato.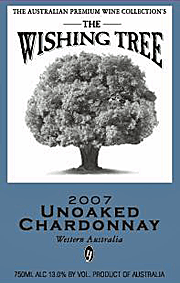 4. Wishing Tree - 'Unoaked' Chardonnay - Western Australia, Australia 2008 - $13
The Wishing Tree Chardonnay comes from Western Australia, specifically the area around Margret River, which is quickly becoming the country's finest
region. There is a sticker above the label on the bottle that indicates this wine is imported by the World Wine Headquarters, which is owned by John Larchet. Larchet has some super cool wines in his portfolio. In fact, he has been described as the Kermit Lynch of Aussie wines. That's quite a compliment when you consider Lynch is a well respected importer who brings us a bunch of really cool French wines. While many Chardonnays see a heavy hand of oak, this particular white is unoaked, resulting in a refreshing, clean style.
5. Angove's - 'Nine Vines' Grenache/Shiraz Rosé - South Australia, Australia 2010 - $12
When it comes to the spring and summer, this writ
er reaches for rosé. Because real men drink pink. This Aussie ros
é
comes from the South Australia state of Australia. While this is a big delimitation, it's also the area that consistently produces the highest quality juice in the countr
y. Angove Family Winemakers has been making wine for almost one hundred years. They are still family owned and operated, and while they started out in the early 1900's as a small operation, today their high tech winery can make over one million cases each year. Their Nine Vines Rose is a blend of 70% Grenache and 30% Shiraz.
6. Robert Oatley - Sauvignon Blanc - Pemberton, Australia 2010 - $16
When I think clean, crisp white wines from the southern hemisphere, I rarely think Australian Sauvignon Blanc. This is because the Kiwi's do it better. It is their flagship varietal after all. But the Aussies have jumped on the Sauvignon Blanc bandwagon, and this particular example by
Robert Oatley
is easily the best I've ever had from
Australia. The label indicates this wine comes from Pemberton, a fairly young but up and coming
sub-region of Western Australia
.
Robert 'Bob' Oatley is a native Australian often credited as the pioneer of Aussie exports. Oatley owned the infamous Rosemount Estate for several decades, the most recognized and successful family-owned Australian winery. His achievements with Chardonnay put Rosemount on the world wine map. His success with Shiraz, especially in the US, was instrumental in establishing the grape as a permanent feature on wine lists and retail shelves here. Today his smaller operation makes great artisan examples of Aussie wines. Case in point: this racy white.

7. Innocent Bystander - Pinot Noir - Victora, Australia 2008 - $20
This next "top tenner" comes from
Yarra Valley
sub-region in the greater Victoria state of Australia. Yarra Valley is considered by many the Burgundy of Australia.
Innocent Bystander
is owned by
Phil Sexton
, a brilliant veteran winemaker who also own the
Giant Steps
label in the Yarra Valley. The Innocent Bystander wines are distinctly regional, varietally expressive, and definitely not your run of the mill blends. Their Pinot Noir regularly receives high accolades from food and wine trade magazines around the world. All of the grapes used in the production of this beautiful red are hand picked.
8. St. Hallett - Shiraz/Grenache 'Gamekeeper's Reserve' - Australia 2008 - $13
Established in 1944, the
St. Hallett
winery is a value-packed producer making wine in and around the Barossa region of South Australia.
Their wines have been produced under the skillful hand of winemaker Stuart Blackwell since 1973. Blackwell won

Barossa Winemaker of the Year

in 2003, and in
2004 the wi
nery was named

Winery of the Year

by Wine and Spirits Magazine.
What first interested me about their Gamekeepers Reserve was the unusual makeup of the blend. It's comprised of Shiraz, Grenache, and Touriga Nacional. Shiraz and Grenache don't surprise me at all; these grapes are commonly used together in blends, especially in Austral
ia. It was the Touriga that caught my eye. This is a varietal native to Portugal, used in the production of Port wines from the country. The dash of Touriga adds a wonderful floral component to this spicy red.
9. d'Arenberg - 'The Stump Jump Red' - Adelaide, Australia 2009 - $10
Founded in 1943 by
Francis d'Arenberg Osborn
,
d'Arenberg
is often viewed as the pioneer winery of the McLaren Vale sub-region of South Australia
. According to the website, "The name 'Stump Jump' pays homage to a significant South Australian invention – the Stump Jump plough. As well as clearing the land around McLaren Vale, it was adopted worldwide in the late 19th century because of its ability to ride over stumps and gnarled roots, saving valuable time and energy." The red is a blend of Grenache, Shiraz, and Mourvedre. All three

of the varietals are native to the south of France but have become increasingly popular in Australia

. If you're looking for an easy drinking red at a great price, pick up the Stump Jump Red by d'Arenberg.
10. Nine Stones - Shiraz - Barossa, Australia 2008 - $14
According to Vineyard Brands, the importer of Nine Stones, "Nine Stones began as a collaboration be­tween Denis Power and Len Evans, a well-known wine educator and raconteur. Since Len's death in 2006, Denis has continued the work of the Evans Wine Company, which also houses Bulletin Place and Kingsvale Ridge. Both Len Evans and Denis Power are of Celtic origin, and the name Nine Stones derives from the ancient Celtic custom of creating circular patterns of standing
stones. The initial release wines were three wines of the Shiraz variety, selected to display the characteristics of the region from which they emanate." The three regions are Barossa, McLaren Vale, and Hilltops Region. For this top ten list I selected the Barossa Shiraz because, dollar for dollar, it's one of the best. If you thought Aussie Shiraz was one dimensional - high in alcohol and a fruity mess - think again.
As I mentioned earlier the country has no shortage of stunning wines for the price, so narrowing the list to ten was tough. Australia simply needs to get past the stigma wrapped so tightly around it, and hopefully posts like this will help by giving insight into smaller producers crafting higher quality wines at a great price. If there's a value-packed Aussie wine you think should make the list, leave a comment here, find me on
Facebook
, or shoot me an
email
.

For more information about me, more fun and interesting wine information, and for delicious food and wine pairings, check us out online at Cru Wine Online. Our very own chefs from across the country have created original recipes just for you, and each day we pair them with the perfect wine and a little humor to bring you an entertaining video short.

Sign up today for a 6 Month Membership and receive a FREE wine glass set, a $19.95 value. Life is short, so drink it up. Entertain your senses with Cru Wine Online's monthly membership. At only $7.99/month you can't afford not to!

Salut,