The Thanksgiving table at our house is a mess. Besides the fact that my uncle will be drunk when he shows up and my aunt feels the need to tell me in great detail about her recent trip to the craft store, our Thanksgiving feast is chock-full of random, borderline non-food ingredients. This year will be with my father's side of the family, and he has 11 siblings, each of which has spawned. This year it will be a small gathering with only 68, which means a plethora of taste preferences, cooking skills (or lack thereof), and most challenging, personalities. Fortunately, wine's got us covered on all points.
This may be completely foreign to you, and if it is, count your blessings. Because we're so big, we have to run our Thanksgiving like a giant potluck. Whoever hosts, God bless them, makes the turkey. Then each guest is assigned a side: potatoes, stuffing, yams, and of course the questionable ribbed cranberry "sauce" and Under the Sea "salad" I alluded to in
last week's post
.
If you wonder why I got into this line of work, it's because my family drove me to drinking. In this family, holiday cheer comes in 750ml bottles. I like to have a glass the night before Thanksgiving and drink right on through to the New Year. So those of you who have complicated dinner arrangements, and I'm not just talking about food, raise your glass with me and toast a list of my favorite Thanksgiving wines.

1. Dr. Loosen Bros. 'Dr. L' - Riesling - Mosel, Germany - $12
When you have a lot of flavors and textures on the table it's best to throw a little sugar at it. This light, refreshing Riesling won't overpower the turkey, and will compliment sugar in sides like the yams and cranberries. It also has a racy acidity to hydrate the palate after each salty, gravy-laden bite. Plus, that nice touch of sweetness makes it easy to drink, so your uncle who "hates" wine will be able to knock back a few without complaining. For your trendy, ratings-whore cousin, the '08 scored a 90 points in Wine Spectator last year, solidifying its place on Spectator's Top 100 list. That'll shut him up.
2. The Crossings 'Unoaked' - Chardonnay - Marlborough, New Zealand - $16
This clean, refreshing white is a great compliment to the many elements on the table. It has the body to stand up to heavier dishes, without getting lost. Plus, it's nothing like a typical Californian Chardonnay, so you can squash that ABC (Anything But Chardonnay) mentality. This winemaker avoided adulteration to create a perfect Turkey Day wine.
3. Trimbach - Gewurztraminer - Alsace, France - $23
Alsatian Gewurztraminer could be one of the most food-friendly wines in the world. Many people believe all Gewurz is sweet, but in Alsace many are produced dry, Trimbach being one. It has a little weight and a great acidity. In addition, it's spicy. So if you have cinnamon in your yams or cloves in your cranberry sauce, this will enhance them, drawing the spices out of the dish.

4. Willamette Valley Vineyards 'Whole Cluster Fermented' - Pinot Noir - Willamette Valley, Oregon - $19
This wine works on three levels. One, it's delicious. Two, Pinot Noir is incredibly food-friendly - light body and tannin make it a go-to pairing, Thanksgiving dinner included. And three, Pinot is popular. In the post-Sideways world, people love Pinot Noir (even if they've never had it) simply because it was the feature grape of the film. Plus it's approachable and easy to drink, appeasing even non-red drinkers...so I guess there's number four for you.

5. Georges Duboeuf Beaujolais Nouveau - Burgundy, France - $12
You've already heard me rant about
Nouveau
. While it is plonk, and basically a giant marketing campaign, it does pair well with Thanksgiving dinner. In fact, the 2010 Duboeuf Nouveau wasn't terrible. It's soft and juicy, with a decent acidity. The wine's almost sweet-like characteristics make it a great partner to the varying sugar levels on the table. It's also inexpensive and tastes like bubblegum, so it'll be a huge hit with non-wine drinkers. A great quaffer to get you through the meal.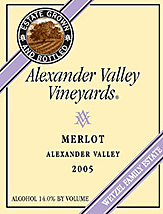 6. Alexander Valley Vineyards Merlot - Alexander Valley - $20
This one's our dirty little secret. While it's almost hip to like Merlot again, some people never got the memo that most of the bottles coming out of California for the last two decades were overproduced fruit bombs. They're still keen on it from the late 80's. Some trends never die...unfortunately. In all seriousness though, it's fine with me. Drink what you like, I say. So show up with this one and you'll look like a hero among the never-updated-their-taste Merlot die-hards. But the secret is this puppy drinks more like a Cab than a Merlot. So while you play the hero, you'll also be able to enjoy it yourself, without any plummy, overproduced madness. Plus, it's got a high ABV, and it never hurts to have a little extra "sauce" for the family meal.
7. Rockbare Shiraz - McLaren Vale, Australia - $18
I love this spicy little devil. Shiraz from Australia is very popular, but much of it is high in alcohol, high in fruit flavors, and low in character or regional identity. This wine found a perfect balance. It still has fruit and weight, but shows depth and complexity. The spice in the glass will, like the Gewurztraminer, draw out any spice on the table. If you're getting wacky and thinking about going Cajun with your turkey (a la the
Cru Wine Online
recipe), reach for a bottle of Rockbare. You won't be disappointed.
8. Duckhorn 'Decoy' Zinfandel - Napa, California - $22
BEWARE. If your family is anything like mine, you may have to explain that Zinfandel is red. Only when adulterated and artificially sweetened is it the boxed Kool-aid "wine" popular in the 80's & 90's. Wait, that was more of a burn for Kool-aid than White Zin (Oh Yeaahh!). All joking aside, 2008 is the first vintage of the Decoy Zin Duckhorn has ever produced, and they are having a tough time selling it. Hard to believe when their test market batch was around 9000 cases. A lot of stores are discounting this product, so you can usually get it for a steal. Low sales be damned, the wine is great. It's jammy, not tannic, which is what you need for Thanksgiving dinner. A real crowd pleaser.
9. Novelty Hill Syrah - Columbia Valley, Washington - $22
Que Shiraz, Syrah. When you roast a turkey flavors are concentrated on the outside of the bird, creating a little more texture and weight. This hearty Syrah will be do well with the bird and appease the "Big Red" drinkers in the family. It has a slightly vegetal thing on the palate, so rubbing elbows with the green beans and other veggies on the table will also be right up its alley. Novelty Hill does great work. If you haven't already, pick up a bottle for yourself and don't share. Wait...the holiday's are about giving...nope, just too delicious.
10. Roederer Estate 'Brut' - Sparkling - Anderson Valley, California - $23
Last but not least is the Roederer Estate Brut bubbly. Roederer Estate is owned by the infamous Louis Roederer, the man who produces the ultra-popular Cristal. This pairing could be regarded as one of the most generic of those on this list because it lacks creativity. But hey, if it works, it works. Its crisp acidity, lower alcohol, and bright bubbles make it a good match for the various, sometimes dubious components on the table. The texture of bubbles can compliment just about any dish under the sun. If you're stuck and don't know where to turn, reach for this delicious bubbly. It's made using the traditional method, the same process used in Champagne, France. This method imparts more flavor, balance, and depth into the wine. It is dry though, so beware criticism from your old-school family members who's quintessential "champagne" is a bottle of Andre Spumante. And don't let them put cola in it. Just buy a backup box of Franzia if that's the case.
Well, there you have it, the top ten turkey day pairings. If you read this and think I'm crazy because you enjoy spending the holidays with your family, I have just one thing to say...Can I get directions to your house this Thursday? In all seriousness I love my family as much as the next guy, but too much of a good thing...you know. So this year I was trying to figure out a way to imply they all need to leave after dinner, without being rude. So I decided I'm going to slip into my nightwear after we eat to send a subtle hint. Boy are they going to be surprised when they find out I sleep in the nude.
These are 10 value-packed, accessible options for your Thanksgiving day meal. I hope you get the chance to try one. I myself am going fully loaded to Thanksgiving. I'm bringing them all. For more information about me, more incredible value picks and delicious food and wine pairings, check us out online at
Cru Wine Online
. We post Wine and Recipe pairings for our users each day, pairing our chefs' recipes with delicious wines, and bringing them to you in an entertaining video short, complete with a brief explanation of the wine, the dish, and the pairing. Subscribe today and receive a FREE wine aerator, a $14.95 value. Life's too short not to enjoy every sip, so drink it up. Entertain your senses with
Cru Wine Online
's monthly membership. At only $7.99/month you can't afford not to!
Salut,
Nicholas Barth
Wine Director
Certified Sommelier
Cru Wine Online